Fishing Charters
Our latest fishing and cray fishing catch, taken at Cape Point, by David and Cameron.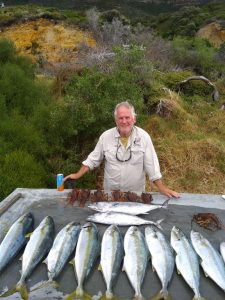 Last week Saturday we went out fishing to Cape Point.
As we launched we heard over the radio where the fish were and so we immediately went there which was a place called "The Ledges" where fishermen come and fish off with rod and reel.
Having put lines out about 15/20 minutes later we suddenly had all 4 rods hook up, with Yellowtail/Kingfish, we caught all 4.
We then moved on to do some cray fishing, we dropped the nets in the middle of the kelp forest and then went back fishing again, where we caught another 2 Kingfish/Yellowtail, we then moved back to check the crayfish nets where we got some really good size crayfish, then went back to drop the nets in a different spot, again went off fishing where we caught more Yellowtail/Kingfish. (as seen in attached photo)
It takes about 30 minutes to get to Cape Point by boat and the view of Cape Point is amazing and the Bellows being a reef there have huge waves that come up and crash against the rocks, making it a spectacular scene.
Comments are closed